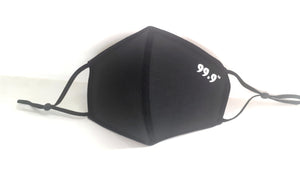 Washable Mask / Masque lavable : Collection "99.9"
Washable mask with 99.9% Bacteria Filtration Efficiency, even after 30 washes! 

Built with innovative copper yarn technology.
3D shape with stretch fabric for better fit and comfort.
Adjustable ear loops.
Made in Korea.

Size: Adult - One-size (for men & women)

*Due to the nature of this product, all mask purchases are final sale, and are not returnable or exchangeable.

***************
DISCLAIMER

Our masks are NOT designed as Personal Protective Equipment and are not intended for healthcare use or to prevent any disease. They should not be used in a surgical setting or in clinical setting where the infection risk level through inhalation exposure is significant, nor for antimicrobial or antiviral protection, or for infection prevention or reduction, nor any other health-related purposes.

Our masks are meant only for use while following social distancing protocols and proper hygiene measures. The use of face masks does not replace precautionary measures to help stop the spread of diseases, such as social distancing, wearing gloves, hand washing, and avoiding touching your face.
---------------------